A wave of draws
The 5th round of the GRENKE Chess open reunited the leaders and the chasers again.The first 4 boards all drew their games so there is no player with a clean score anymore. Altogether there are 20 players now with 4.5/5. This means the fans following the GRENKE chess open can expect an exciting finnish on the last 4 rounds of the tournament.
On the top board Viktor Erdos and Maxim Matlakov faced each other. The russian Grandmaster won a pawn in the middle game but the hungarian could save the game because of opposite colored bishops. The 2nd board was a Hungarian duel between Gabor Papp and the favorite of winning this tournament, Richard Rapport. Papp with the white pieces never risked anything and made an easy draw. On board 3 Rasmus Svane saw some advantage for the German talent but Alexander Moiseenko defended well and managed to save half a point.

Rasmus Svane is playing his A-game at the GRENKE Chess Open
The biggest chance for a victory on the top boards had Nils Grandelius. The Swede won an exchange early in the game and was on the road to victory, but surprisingly he gave the exchange back and soon agreed to a draw.Because of the 4 draws on the top board we saw a comeback of the tournament favorites into the leading group of players. Those players were Nikita Vitiugov, Vladimir Fedoseev and Igor Kovalenko.
In the category of the best woman Fiona Sieber took over the lead. However, the favorites Sarasadat Khademalsharieh, Elena Levushkina und Inna Agrest are all on 3,5/5 like the U16-european-youth-female champion of 2016.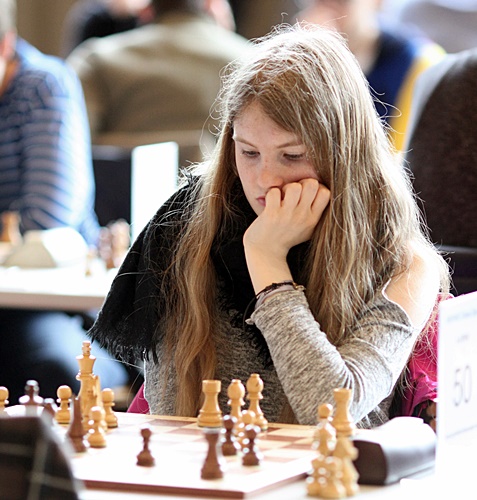 Fiona Sieber is fighting for the prize "best woman"