Two players in the lead after 6 rounds
The games on the top three boards ended in rather quick draws as the grandmasters are trying to save energy for the crucial final rounds. Out of the big group of 23 players who came into this round on 4.5/5 only two could win their games in the end: Anton Korobov from Ukraine and Maxime Lagarde from France. These two players will therefore be battling it out on the top board in round 7. Meanwhile Subbaraman Vijayalakshmi (India) and Anastasia Savina (Russia) lead the race for the woman's prize, with a score of 4.5/6. Vincent Keymer also continues giving German fans a lot to cheer for/be happy about as he beat IM Alessio Valsecchi and still has good norm chances, with a current score of 5 points.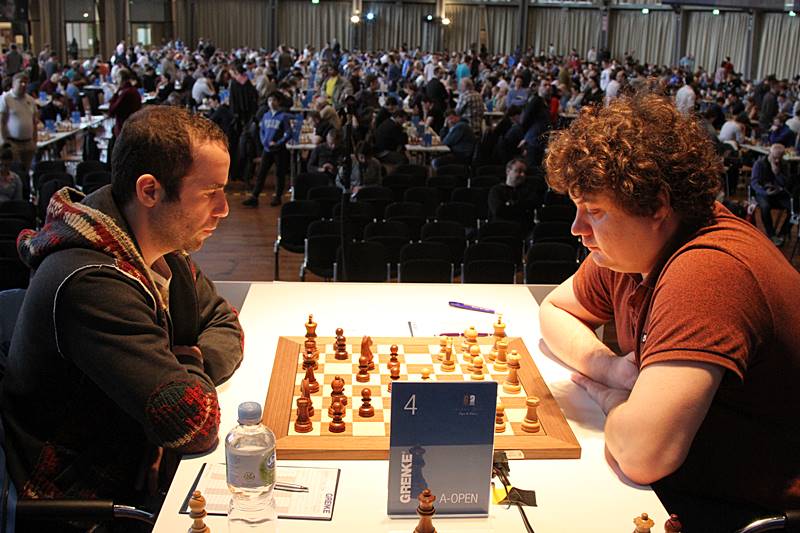 Gergely Antal against Anton Korobov
Rating favourites Richard Rapport (Hungary), Dmitry Andreikin (Russia) and Loek van Wely (Netherlands) all made a quick draw with the black pieces in round 6 and it is clear that their game plan is to take home the full point with White in the afternoon.
Erstaunlicherweise endeten viele weitere Partien zwischen den Spielern mit 4,5 Punkten ebenfalls remis, so dass nach der 6. Runde nur zwei Sipieler mit 5,5 Punkten an der Spitze liegen. Anton Korobov nutzte seinen Anzugsvorteil gegen Gergely Antal zum Sieg. Die Nr. 7 der Setzliste setzte sich nach langem Kampf dank eines starken Freibauern im Endspiel durch. Maxima Lagarde gewann gegen den jungen Holländer Robby Kevlishvili, dem die Eröffnugn in einer Englischen Partie misslang.
It was surprising however just how many other games between players on 4.5 points also ended in draws - so much so that at the end of the round only two players shared the lead on 5.5/6. Anton Korobov took advantage of the white pieces to overcome Gergely Antal (Hungary) in a long fight, where in the end a passed pawn decided the game in his favour. Maxime Lagarde meanwhile won against young Dutch hope Robby Kevlishvili, who misplayed the black side of an English Opening.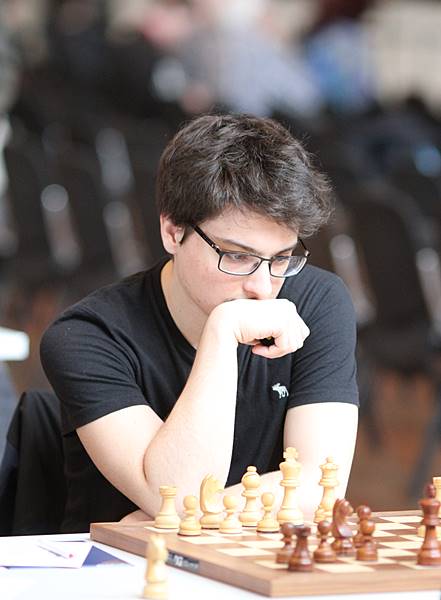 Maxime Lagarde
Wang Hao (China) and Alexei Shirov (Latvia) are two other favourites who managed to win their games this morning and only trail the leaders by half a point. With no less than 36 total players on 5/6, the hunt for tournament victory is intensifying. Among these 36 players 11 are from Germany and it is great news for all his fans that young Vincent Keymer is one of them. Thanks to his strong showing he will get the chance to play against Rainer Buhmann, a member of the national German team, in round 7.
The pairings on the top boards for round 7 look as follows:
| | | | | | | | |
| --- | --- | --- | --- | --- | --- | --- | --- |
| 1 | 19 | Lagarde, Maxime | 7 | Korobov, Anton |   | - |   |
| 2 | 2 | Rapport, Richard | 34 | Kollars, Dmitrij |   | - |   |
| 3 | 33 | Malakhatko, Vadim | 3 | Wang, Hao |   | - |   |
| 4 | 4 | Andreikin, Dmitry | 36 | Burmakin, Vladimir |   | - |   |
| 5 | 6 | Van Wely, Loek | 38 | Schlosser, Philipp |   | - |   |
| 6 | 35 | Lampert, Jonas | 8 | Shirov, Alexei |   | - |   |
| 7 | 41 | Ider, Borya | 9 | Fridman, Daniel |   | - |   |
| 8 | 10 | Gordievsky, Dmitry | 46 | Bellahcene, Bilel |   | - |   |
| 9 | 47 | Poetsch, Hagen | 11 | Banusz, Tamas |   | - |   |
| 10 | 12 | Kozul, Zdenko | 54 | Pavlovic, Milos |   | - |   |
Round 6 Results
Round 7 Pairings
Standings after Round 6
Text and photos: Georgios Souleidis
Translation: Fiona Steil-Antoni