Korobov topples overnight leader Aleksander Indjic; seven players take lead
Overnight leader Aleksander Indjic did not enjoy his sole lead for too long. On the premier board in round six, the Serbian Grandmaster was toppled off the pole position by GM Anton Korobov of Ukraine. Daniel Fridman, Aleksey Sarana, Jorden van Foreest, Aleksey Goganov, Samvel Ter-Sahakyan and Andreas Heimann also won their games and swelled the list of tournament leaders to seven players.
GM Aleksander Indjic (right) could not retain his lead for long. His loss to Anton Korobov brought him down to the 20th spot on the leaderboard | Photo: Georgios Souleidis
Round six saw two Ukrainian players, Anton Korobov and Yuriy Kuzubov, take the top two boards, both with the black pieces and both being the nominal rating favourites. But when the round came to a close, only Korobov had managed pull off a victory. Kuzubov, in the meanwhile, had a decent position in a Slav Defence game against Aleksey Goganov but made some errors while inching towards the first time control and went down after a 49 move battle.
In the Indjic-Korobov game, the latter essayed an aggressive Sicilian Scheveningen to contrive a dangerous kingside attack. Following an error on the part of Indjic in the middle game, Korobov's queen, bishop and knight lined up against the white king, rendering the position extremely precarious for the first player.
German GM Daniel Fridman (right) sprung back into the lead by scoring a win over GM Antoniois Pavlidis | Photo: Georgios Souleidis
The game between Daniel Fridman and Antonios Pavlidis was a typical King's Indian. As black, Pavlidis threw all but the kitchen sink at his opponent in the hope of breaking through on the kingside. But the German grandmaster did well to withstand the kingside storm while his own attack on the queen's wing broke through.
On board 3, Indian prodigy, D Gukesh continued his great run in the tournament, holding GM Maksim Chigaev of Russia to a draw with the black pieces. In a Rossolimo Sicilian, the two played a short, solid draw in 25 moves.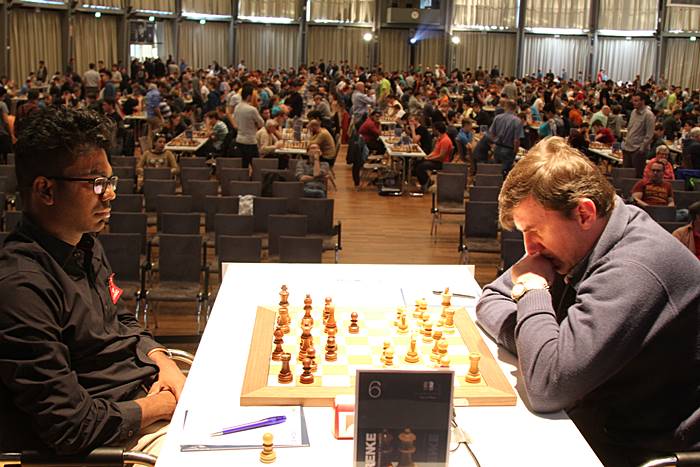 Sethuraman missed out on joining the lead after letting Malakhatko wriggle out with a draw | Photo: Georgios Souleidis
Gukesh's compatriot SP Sethuraman also drew his sixth round game against Belgian GM Vadim Malakhatko. However, 'Sethu' could not have been as happy given that he was even winning at some point in the Dutch Defence game as black. In his trademark aggressive style, he had expanded on the kingside to put pressure on the black king. Around the first time control, the computers evaluated his position as clearly winning. But he missed the most critical line and had to concede half a point after an eighty-nine move marathon.
One more round remains to be played in the day. It will be interesting to see how the leaderboard changes after the upcoming antepenultimate round.
Round 6 pairings (top 10 boards):
1
3
Korobov, Anton
12
Heimann, Andreas
 
-
 
2
7
Sarana, Alexey
20
Ter-Sahakyan, Samvel
 
-
 
3
23
Van Foreest, Jorden
8
Fridman, Daniel
 
-
 
4
6
Chigaev, Maksim
30
Goganov, Aleksey
 
-
 
5
9
Sethuraman, S.P.
47
Basso, Pier Luigi
 
-
 
6
58
Engel, Luis
10
Predojevic, Borki
 
-
 
7
11
Esipenko, Andrey
51
Studer, Noel
 
-
 
8
15
Tabatabaei, M.amin
55
Malakhatko, Vadim
 
-
 
9
17
Bluebaum, Matthias
57
Baldauf, Marco
 
-
 
10
45
Dann, Matthias
18
Svane, Rasmus
 
-
Find the full list here
Text by Aditya Pai